Some resources you might find useful if your child has feeding challenges. I am not affiliated with any of these pages or people (except for the things I have written myself!). So if I recommend them, it's because I think they are good quality:

Blog posts I have a blog site with some useful posts about feeding. I hope you will explore all the posts, but I have linked to a few here that may be of particular interest :
'Your mouth is connected to your hip bone (sort of)' This post might be for you if you have a typically developing child or toddler, or one with developmental delays. Maybe you are struggling with gagging, choking, moving on with lumpy foods or finger foods? Take a look
Towels, your feeding chair hack This post will help you understand a little about improving your child's seating position in order to help with feeding development. Tiny changes can support your child's chewing development. Follow the link and scroll down the blog page slightly to find the post.
Things We Love, #1 Ellyn Satter's Division of Responsibility Feeding can get very stressful very quickly! Perhaps your child is a fussy eater, or you feel they have developed phobias, aversions or behavioural issues around food. I use this model a lot to help families to start to rebalance expectations around meals and to reduce stress.
Websites and Social Media

Infant and Toddler Forum This website has some great downloads for many aspects of feeding your child. I especially recommend their resources in the fussy and faddy eating section

Facebook pages

Facebook page associated with the book listed below

Facebook page of Grace Wong, a Canadian Dietitian. She works in a low pressure, developmentally supportive model of feeding work that I also support.

Facebook page of Caitlin Boudreau, a Canadian Dietitian

There is lots of nice info on this page, though sometimes there will be minor differences in the standard advice in Canada compared to the US. This page has a great group you can join to ask general nutrition questions too

Recommended Books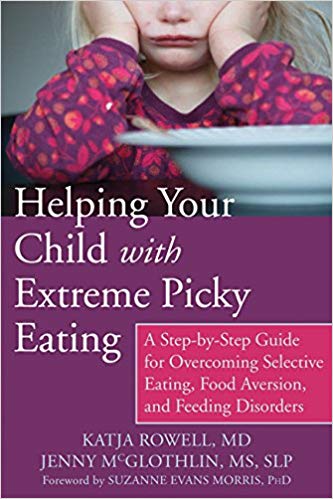 This is a great book to help you to tackle severe eating issues in a systematic way. It will not be suitable for children whose eating problems involve aspiration/swallowing problems, or where your child's eating problems are mainly motor-based (for example, if your child has cerebral palsy, low or high muscle tone)

Click on the picture of the book to take you to Amazon to buy.